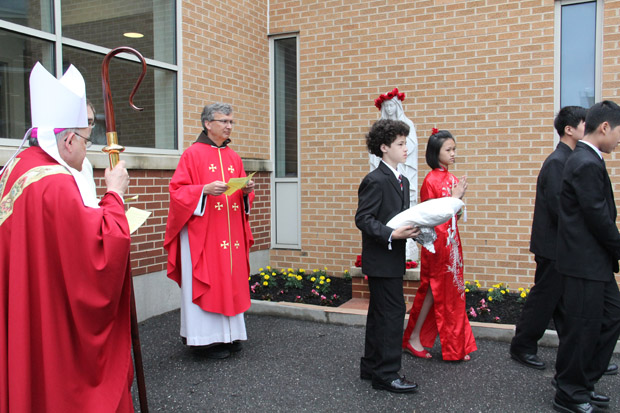 Archbishop Charles Chaput at Holy Redeemer Parish
Archbishop Charles Chaput, left, and Franciscan Father Thomas Betz, coordinator of the Chinese Apostolate at Holy Redeemer Parish in Philadelphia, participate in the crowning of a statue of Mary May 19 at Holy Redeemer. At center, young parishioners Kaelon Soto (left) and Karissa Jung walk in procession after the crowning. Catholics in the Philadelphia Archdiocese were invited to pray for Catholics in China on May 24, the day of Our Lady Help of Christians, to which Chinese Catholics have a devotion.
In a speech Thursday, September 15, 2016 at the University of Notre Dame, Archbishop Charles J. Chaput called presidential candidates Donald Trump and Hillary Clinton "very bad news for our country."
Chaput said that since he first voted in 1966, "the major parties have never, at the same time, offered two such deeply flawed candidates."
He said he believes each candidate is detrimental to the nation in different ways.
"One candidate, in the view of a lot of people, is a belligerent demagogue with an impulse-control problem. And the other, also in the view of a lot of people, is a criminal liar, uniquely rich in stale ideas and bad priorities," Chaput said.
It was not the first time the archbishop criticized the Republican and Democratic nominees. Last month he wrote that Trump and Clinton "both have astonishing flaws."
"Trump was an eccentric businessman of defective ethics whose bombast and buffoonery make him inconceivable as president."
"Clinton should be under political indictment."
Philly.com: Chaput: Clinton, Trump 'very bad news for our country'